ABOUT MK Networking
---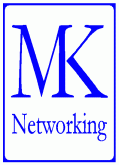 Matthew Kunath, MCSA, CNE founded his network engineering & administration consulting practice in 1995 after identifying an unmet need of companies with very small to small networks (less than 100 nodes) in Boston's MetroWest area. While these companies need networking expertise and time-sensitive troubleshooting, they do not wish to have a full-time network engineer or administrator on staff. As principal of MK Networking, Matthew is able to meet these firms' needs on a consistent per diem or as needed basis. Companies find that this approach keeps their systems up and running to meet their specific work demands, and keeps their overhead down.
Matthew's computer system experience dates back to 1984, both through his direct systems work and his 10+ years experience as an electrical engineer in the building design industry.
Matthew is certified both as a Novell Engineer and Microsoft System Administrator. He is also A+ and Network+ certified and has extensive experience in the following systems: Microsoft Windows NT through 2008 R2 Server networking, Windows peer-to-peer networking, and Microsoft Office products.
Matthew holds a Bachelor of Architectural Engineering degree from The Pennsylvania State University and extensive post-graduate course work in various computer and networking fields.

Matthew Kunath, MCSA, CNE, A+, Net+